Reseñas
Descripcion:
«Guardians of the Galaxy Vol. 3» es la esperada conclusión de la aclamada trilogía de Marvel, que ofrece una mezcla irresistible de acción, humor y emoción en la vastedad del cosmos. Nuestros queridos Guardianes se enfrentan a nuevos desafíos y antiguos enemigos en una aventura que cambiará el destino de la galaxia.
La historia sigue a Star-Lord, Gamora, Drax, Rocket y Groot, junto a nuevos aliados y viejos amigos, mientras desentrañan secretos sobre el universo y confrontan su propio pasado. El viaje les llevará a rincones desconocidos del cosmos, donde descubrirán nuevas razas alienígenas y se enfrentarán a poderosas entidades cósmicas.
A medida que se despliega la trama, cada miembro de los Guardianes tiene la oportunidad de brillar, destacando su evolución desde mercenarios a héroes y familia. La película profundiza en la historia y la psicología de los personajes, al tiempo que mantiene la acción rápida y el ingenioso diálogo que han definido la serie.
«Guardians of the Galaxy Vol. 3» marca el final de una era para estos personajes inolvidables, pero también el comienzo de nuevas aventuras. La película consolida los lazos entre los Guardianes y subraya el mensaje de que, sin importar de dónde vengamos, todos somos parte de la misma galaxia.
Con su impresionante escala espacial, sus emotivas actuaciones y su característico humor, «Guardians of the Galaxy Vol. 3» es una despedida agridulce y un emocionante capítulo final que no se debe perder.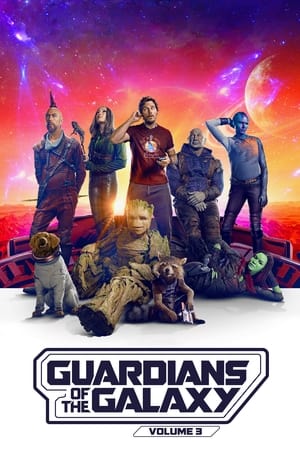 Guardians of the Galaxy Vol. 3
Peter Quill, still reeling from the loss of Gamora, must rally his team around him to defend the universe along with protecting one of their own. A mission that, if not completed successfully, could quite possibly lead to the end of the Guardians as we know them.

Chris Pratt

Zoe Saldaña
Dave Bautista
Karen Gillan

Pom Klementieff
Vin Diesel

Bradley Cooper

Sean Gunn
Chukwudi Iwuji

Will Poulter

Maria Bakalova

Elizabeth Debicki

Sylvester Stallone
Austin Freeman
Stephen Blackehart

Terence Rosemore

Sarah Alami
Nico Santos
Miriam Shor
Linda Cardellini
Asim Chaudhry

Mikaela Hoover
Judy Greer

Tara Strong

Michael Rosenbaum
Elan Gale
Molly C. Quinn
Gerardo Davila

Dee Bradley Baker

Jennifer Holland
Nathan Fillion
Benjamin Byron Davis

Tiffany Smith
Daniela Melchior

Jonathan Mercedes
Jonathan Fritschi
Max Bickelhaup

Brandon Morales

Renae Moneymaker

Tara Warren
Caleb Spillyards
Darla Delgado
Ken Lyle
John William Wright
Randy Havens

Dane DiLiegro
Kai Zen

Adelynn Spoon
Scarlett Blum

Lloyd Kaufman

Seth Green

Christopher Fairbank

Rhett Miller
Natalia Safran
Michael Rooker

James Gunn

Pete Davidson
Jessica Fontaine

Karen Abercrombie

Gregg Henry
Adriana Leonard
Bonnie Discepolo

Clare Grant

John Murphy
Sarah Halley Finn

Tatiana S. Riegel
Stan Lee
Kevin Feige
Doc Kane
Rosemary Brandenburg

James Gunn

James Gunn

Mike Mignola
Jack Kirby
Larry Lieber
Don Heck

Henry Braham

Louis D'Esposito
Fred Raskin

Beth Mickle

Victoria Alonso
Bobcat Goldthwait

Dan Abnett

Chris Claremont
Gene Colan
Alicia Vela-Bailey

Wayne Dalglish
David Acord
David Acord
Lars P. Winther
Lars P. Winther

Andy Lanning

Nicolas Bosc
David J. Grant

Heidi Moneymaker

Ben Aycrigg

Janelle Beaudry

Katie Rowe

Jim Starlin
Caleb Spillyards

Renae Moneymaker

Shaun Farley

Danya Bateman
Mallory Thompson

Rob de Groot

Marie Fink

Curtis Lyons
Cassie Russek
Chris Romrell

Holly Dowell

Gary Peebles

Daniel Norris

Felix Betancourt
Aurélia Agel
Etiquetas